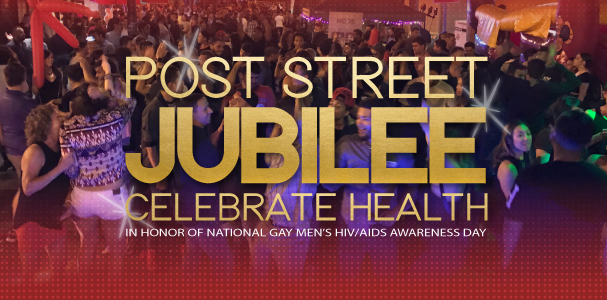 Post Street Jubilee is Saturday, September 23 in downtown San Jose. Celebrate Health in honor of National Gay Men's HIV/AIDS Awareness Day.
For its 5th year, Jubilee is a FREE street festival along Post Street, between South 1st and South Market Street, from 6:00pm to 2:00am. All members of the community are invited to attend, including youth, adults, and families.
#PartyOnPost is an outdoor party to better health, including Booths, DJs, Games, Giveaways, Performances, and most importantly, share health related information and resources in a fun atmosphere. The FREE services available, will include: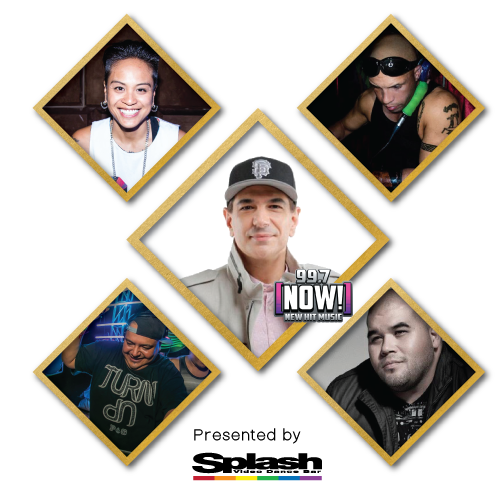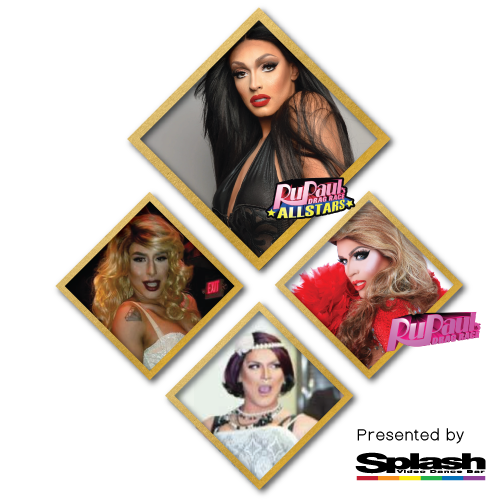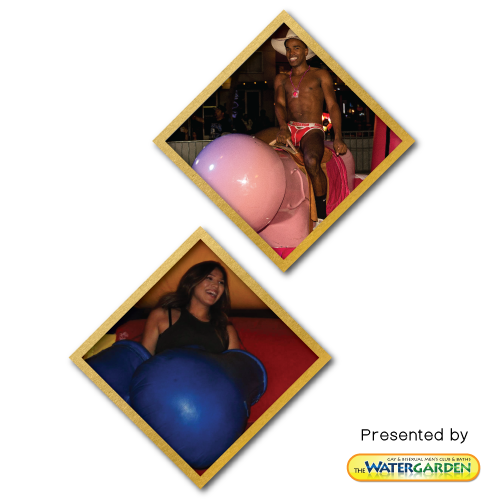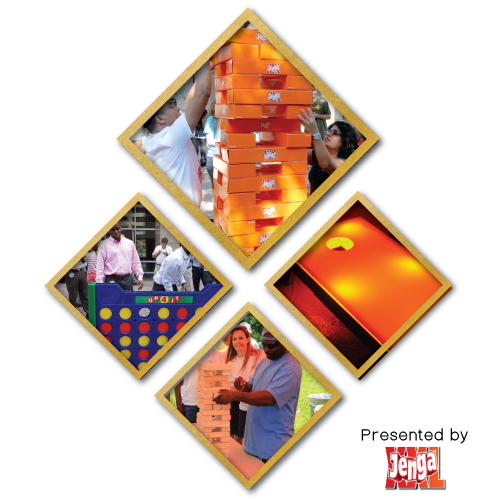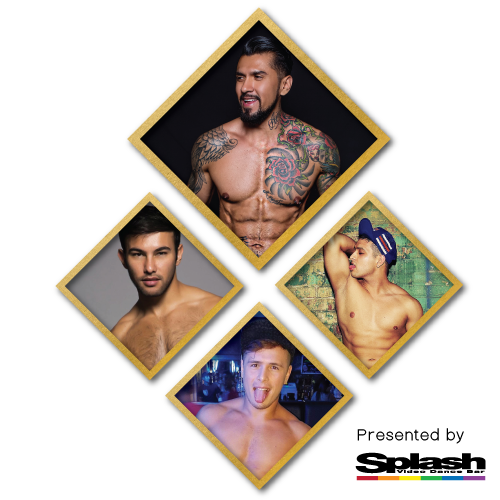 Attend and receive discounts from participating downtown businesses till Jubilee ends at 2AM.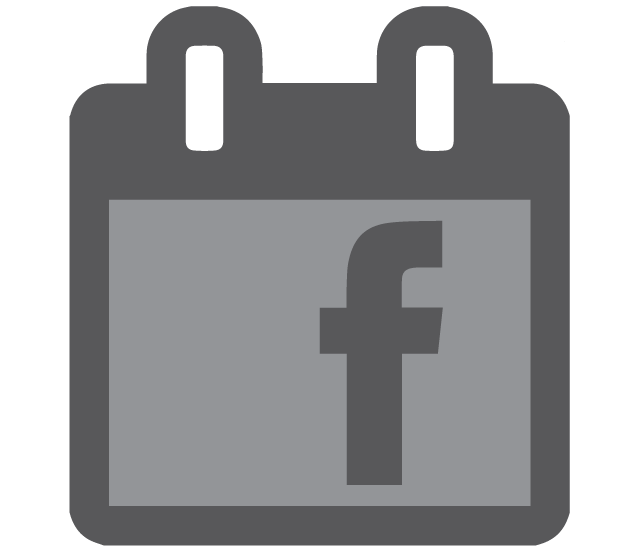 RSVP and share our event on Facebook.

Jubilee is a partnership by Santa Clara County Public Health Department and Project MORE.
With fun for everyone, Jubilee has games, inflatable attractions, and music for all ages. Cornhole, jump house, giant connect4, boxing ring, Jenga XXL, and more. Don't forget to ride our famous mechanical moby dick, for a $5 donation.
Jubilee will continue its tradition with entertainment all night, including top DJs from the Bay Area with special drag, dance, and music performances. After 10:00pm, Post Street will become a Las Vegas styled outdoor dance club with rich dance music, go-go dancers, and amazing light show.



For our 5th year, Jubilee will occur along Post Street in downtown San Jose between S. Market and S. 1 Street.

By Public Transit
Jubilee encourages use of public transit with routes near W. Santa Clara and S. Market Street. For schedule and route details, visit the Valley Transportation Authority website.

By Car
There are many parking options near Jubilee. Street parking is minimal, but there are several neighboring parking lots and garages available. View the list here.


By Car Service
Rideshare services like Lyft, Yellow Cab of Silicon Valley, or charter services may drop-off passengers in front of the main Jubilee entrance on S. Market St. at Post Street. View here.
Jubilee relies on volunteers to help with a variety of tasks, and are critical to keeping the event free and accessible. Choose one of the positions below, and click Sign Me Up to schedule your preferred shift. Shifts are three (3) hours and you may sign-up for more than one. In spirit of safety, we encourage volunteers to be at-least sixteen (16) years of age.

Communications Assistant
Help with social media and website content, photos, video and other communication support tasks.
Sign Me Up

Game Attendant
Help operate and monitor games, and provide customer service and information to attendees.

Event Attendant
Help provide customer service and aids attendees with directions, information, and donations.
Operations Assistant
Help with event tasks, decor, and equipment. Aids in producing a successful event.
(This section will be updated as further information and common questions are collected.)
Is Post Street Jubilee only for the LGBTQ Community?
No. Jubilee invites youth, adults, families, allies, organizations, businesses, social groups, and all members of our community. All backgrounds, ages, gender identities, sexual orientations, and economic statuses are welcome.
Are tickets required?
No. This is a free event and no ticket is required. Entrance/Exits for Jubilee are on S. Market at Post Street, and on S. 1st at Post Street. Voluntary donations are collected at entrances to fund the event, and HIV/AIDS services in Santa Clara County.
Is this a peaceful event?
Yes. Jubilee does not believe in any act of violence or disobedience that could jeopardize the safety or security of the public.
Will it be safe? Can I bring my kids?
Yes. Safety and security is critical to the success of Jubilee. Trained volunteers and private security, will ensure a safe and inviting event for all members of the public to attend. We understand the decision to bring your children is a personal one, but they are welcome.
How should I get to Post Street Jubilee?
We recommend taking public transportation. For those who prefer to drive, parking is available on the street, in lots, or inside garages. Available options are listed here.
How will traffic be affected?
Post Street, between S. Market and S. 1st Street, will be closed to all vehicle traffic from 6:00pm on September 22 until 12:00pm on September 24. This includes no traffic along Lightson Alley. Pedestrian traffic will be limited on September 23 to the entrance/exits on S. Market at Post St. and on S. 1st at Post St.
Will restrooms be available?
Yes. We will have gender neutral and ADA accessible restrooms with handwashing stations available.
Can we bring walkers, canes, wheelchairs, or other mobility devices?
Yes. Assistance devices like a walker, cane or wheelchair are welcome. Please refrain from raising the cane above waist level to prevent injury of others.
Can we bring strollers and baby carriers?
Yes. Baby carriers and child strollers are welcome. We suggest using small compact strollers if possible, and devices may not impede other attendees, pedestrian traffic or emergency personnel access.
Can I bring my bicycle?
Yes. Bikes are an ideal form of transportation to Jubilee. Limited bike parking is available in downtown San Jose at bike racks which can be located here. Bicycles should be parked and locked securely to bike racks. Jubilee cannot be held responsible for any damage, loss, fines, or theft to property, including bicycles.
Can we bring bags?
Bags may be no larger than 8″x 6″x 4″ unless entirely transparent/clear. Registered and badged press/media may bring equipment bags that are larger.
Can we bring food or drinks?
Yes. If they fit within your bag or into a transparent gallon size bag they are allowed and welcomed. Please no glass containers. We ask that you respect the city and clean up after yourselves by disposing trash and recyclables in the appropriate receptacles. Food and beverage will be available by vendors for purchase.
How can my business or organization get involved?
Yes. All likeminded businesses, organizations, care providers, groups, clubs, and government programs are encouraged to get involved. Engage with the community with a booth, become a sponsor, or volunteer. Contact our Partnership Coordinator at partner@domoreproject.org.
How can people unable to attend still support?
Although we will miss having you at the event, there are still a variety of ways you can help. We thank you for your support!
Donate to help fund this free community event and Santa Clara County HIV/AIDS services.
Volunteer for pre or post event tasks or recruit others to volunteer in your absence.
Share your support for the event on social media using hashtag #PostStJubilee
Is photography/videography allowed?
Yes. Photography and videography is allowed for personal use. Please be advised that bags carrying cameras and equipment must adhere to our bag restrictions. Wearing your camera around your neck or shoulders is allowed. Press/Media access is available by contacting our Communications Team at press@domoreproject.org.
Is there a hashtag I should use?
Yes. Please use #PartyOnPost when posting or sharing your experiences or photos on social media.
Is there a place to send my Post Street Jubilee photos?
Yes. Please post your photos to social media and tag us using the hashtag #PartyOnPost. You can also email your photos to press@domoreproject.org. Thank you for sharing your experience with us!
Security
To ensure Post Street Jubilee is a safe event for everyone to enjoy, the following restrictions are in effect.
Prohibited Items
Aerosols
Alcohol
Ammunition
Bags or backpacks exceeding 8″x 6″x 4″ size restriction
Coolers
Drugs (illegal and non-prescribed drugs and paraphernalia)
Explosives
Firearms
Glass or thermal containers
Laser pointers
Mace / Pepper spray
Packages or boxes
Structures (tents, canopies, large umbrellas, or other similar shade devise)
Weapons of any kind
Any other items determined to be a potential safety hazards
Restricted Items
Animals must be on leash and pet waste must be properly disposed.
Bicycles may not be rode in Jubilee, on Post Street or Lightson Alley.
Unauthorized tabling, vending or sales of any goods or services.
For questions, contact our Event Relations Coordinator by email events@domoreproject.org or call 408-673-1745.